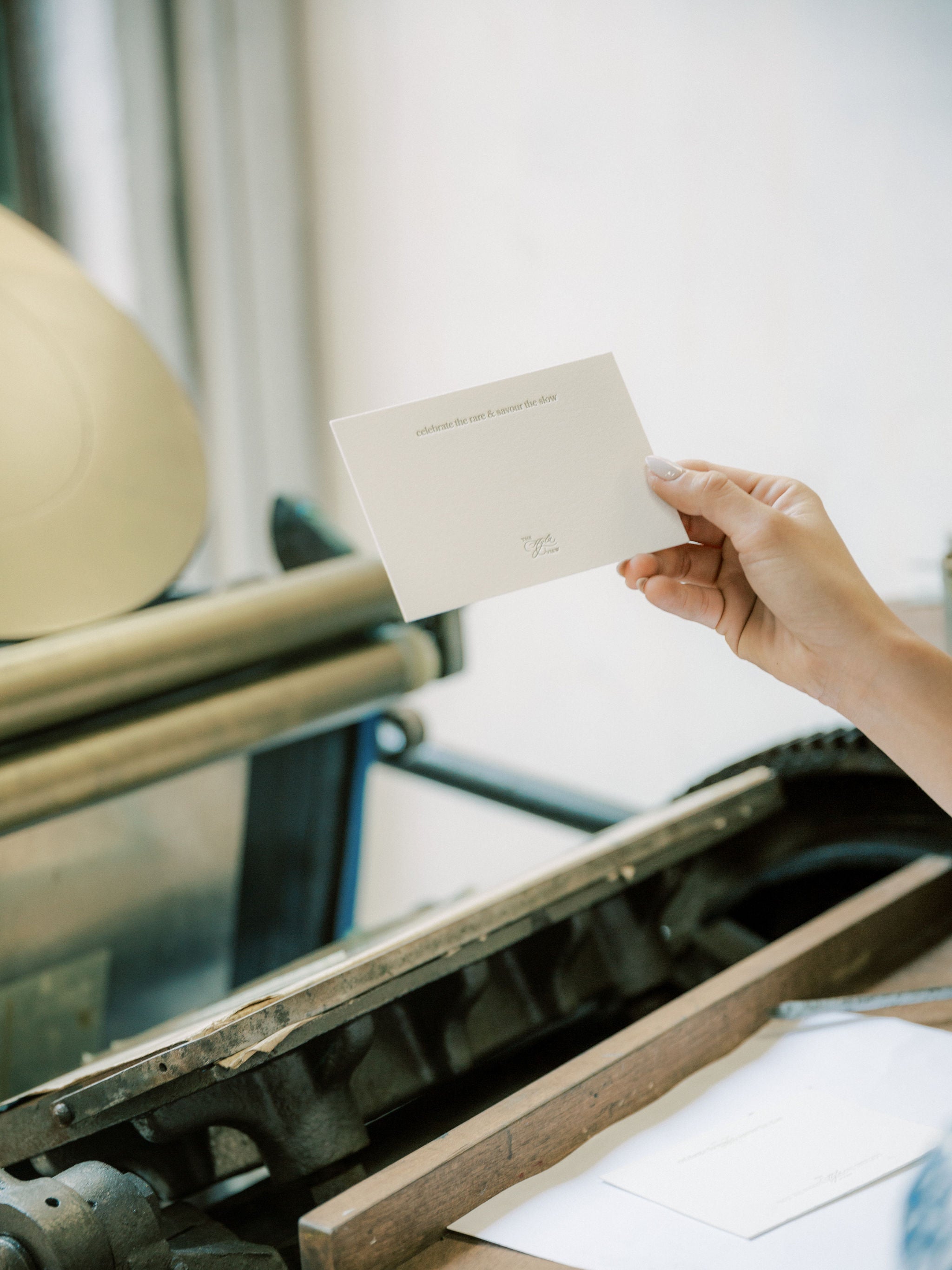 Frequently Asked Questions
◆ Custom Wedding Stationery
For couples who would like to work from ground up and have custom-tailored wedding stationery created by us. From invitation suites to wedding day-of stationery, we take care of our couples who opt for an overall cohesive, bespoke experience.
Timeline: 8-12 weeks
Minimum Order: No minimum quantity; minimum spend requirement is CA$6,500. If ordering day-of stationery with custom wedding invites, we recommend a starting budget of CA$8,500.
When to Order: 9+ months prior to your event, no less than 6 months
◆ Semi-Custom Collection
For couples who have seen our work, love our aesthetic, and would like to personalize one of our suites from The Collection as their own.
Timeline: 6-8 weeks
Minimum Order: 50 sets – If ordering less, the pricing will be the same as for 50 sets
When to Order: 6+ months prior to your event
For Semi-Custom Shop orders, you are able to upgrade the paper stock by purchasing our curated handmade paper add-on for suite packages.
For Custom Wedding Stationery, please mention this in your inquiry so we can propose specialty paper options to make your invitations one-of-a-kind.
We understand that each couple's love story is unique, so we'd love to chat about how we can personalize your wedding invitations for you! If you love one of our semi-custom designs, but would like to incorporate custom details (e.g. custom monogram, venue illustrations, envelope liners, multiple ink passes, custom wax seals, etc.), please reach out through our contact form.
Kindly note, to allow us to accommodate specialty design elements and print methods, these customizations may fall in the Custom Wedding Stationery pricing bracket.
Customizable: copy/verbiage, printing ink colour, envelope colour, paper stock upgrade, embellishments, calligraphy ink colour
Non-Customizable: overall suite design, layout, fonts, font styles (i.e. bold, italic, capitalization, etc.), illustrations, print method, calligraphy style
All design proofs are delivered electronically and will be available on your Client Portal.
We encourage you to order samples if interested in working with us.
We don't offer downloadable digital files due to artwork copyrights. If we have created custom illustrations for your invitations, please email us directly at hello@aylapena.com for a licensing fee on design files to be used on day-of stationery/signage that we are not able to produce.
We take pride in our craft, therefore we do not and we will not copy another artist's style.
Yes! Our small-yet-mighty studio takes pride in designing, printing, producing, embellishments, and assembling all invitation suites in-house.
Upon approval of final digital proof, invitation orders take at least 3 weeks for production; at least 5 weeks if your order includes handmade paper and/or specialty embellishments.
Due to the handmade nature of our work, we do not want to compromise the quality of our products and services.
If your requested in-hand date is available, at least a 30% rush fee will incur. Rush requests are not available for orders that are already in production. Shipping will be upgraded for rush orders at the client's expense.
Custom Wedding Stationery
Yes, cancellation fees are due based on the amount of work that we have completed and stage the project has entered.
Semi-Custom Collection Shop
Please contact us at hello@aylapena.com within 48 hours if you have any issue after placing your online order. Admin. fees will not be refunded if you decide to cancel your order.
We are unable to refund once your order is sent to production.
We are able to offer letterpress printing to other stationery designers on a case-by-case basis. Please send a detailed inquiry through our contact page to check our production calendar availability.
Please confirm your quantity upon approval of final design proof. A new order will need to be placed if you have to increase the quantity of your order once your order has gone into production phase as we are not able to add to your existing order.
We offer foil printing and die-cutting to Fully-Custom wedding invitation clients.
◆ Custom Wedding Stationery
At least 8 months prior to your event
◆ Semi-Custom Collection
At least 6 months prior to your event
We recommend sending out your invitations 2-3 months before your event, earlier if you are having a destination wedding.
Upon sending complete information for your order, please allow at least 5 business days for the initial design proof that can be viewed through your client portal.
Please have the complete and final list available at least 4 weeks before your requested in-hand date. We will send our guest addressing template for you to fill out as soon as you've booked.
In case you need to add or change guest names and addresses, the invoice will be adjusted and payment is due prior to shipping. A set-up fee of CA$25 per additional batch of guest addresses will be added to the final invoice.
Due to the custom and handmade nature of our work, there are many factors that affect the pricing of invitation packages that we create.
For reference, 100 sets of our Semi-Custom 5-piece package start at CA$4,560. This includes the invitation card, information card, response card, main envelope, and return envelope. Our minimum spend requirement for Fully-Custom invitation packages is CA$6,500 (regardless of quantity).
To request a quote, please fill out the form on our contact page.
Yes, we offer complimentary stuff and seal assembly to all our wedding invitation clients. Please e-mail us directly at hello@aylapena.com if you prefer doing the assembly yourself. If embellishments are included in your order, invitations will automatically be assembled by us.
We offer our Day-of Stationery services only to our Wedding Invitation clients.
We are able to offer payment plans for Custom Wedding Stationery. A 50% booking deposit is required as initial payment. Upon approval of final design proof, 25% is due prior to production and assembly. The remaining balance is due prior to shipment and completion of project.
Yes, please send your detailed inquiry through our contact form if you have other insert cards to be included in your suite.
Yes, we have and we do. We love being able to offer our wedding paper services to US/international-based clients and are pleased to ship our stationery products worldwide.
Happy to discuss what would work best for you! Of course, we love working directly with our clients as we want to get to know you better. If you've already hired a wedding planner, we recommend sharing their contact information with us, so we can work together seamlessly on your wedding.
Hiring professionals for your event allows you to have more time to enjoy special moments with loved ones especially leading up to your wedding day.
Our online shop currency is set in Canadian Dollars. You can click on the drop-down menu at the top-right corner or at the bottom of the page to select your country for pricing estimates in your currency.
The Ayla View Terms & Conditions 2023-2024
1 | Design
We put a lot of love and care in our designs and elements are intentionally crafted to best fit the whole aesthetic and quality of our products and services. We do not offer any major changes, such as typography, illustration, painting, and calligraphy styles, featured in our products. Although the wording for the invitation suites may sometimes differ from suite to suite, The AYLA View has the sole discretion to layout the copy as deemed fit without changing the overall design.
2 | Print Production, Proofs, and Revisions
Due to the custom and handmade nature of our products and services, turnaround times may vary from one order to another depending on the complexity of design, chosen print method, additional embellishments, client communication, submission of requirements, and shipping schedule, to name a few. Delay in approving proofs will result in delay of your order.
Once your order has gone to print production, we are unable to reduce the quantity of the sets you've placed. If you need to order more and your order has gone to print, a set-up fee and additional time will be added to your project's production.
FULLY-CUSTOM INVITATION SUITES
For FULLY-CUSTOM suites, your order includes up to 4 digital proofs. This means you get an initial design proof, plus up to 3 complimentary revisions. After the 3rd revision (4th digital proof), additional revisions are billed separately and balance is due prior to creating the next digital proof. Additional mockups are billed at $200/design revision.
SEMI-CUSTOM INVITATION SUITES
For SEMI-CUSTOM suites, your order includes up to 3 digital proofs. This means you get an initial design proof, plus up to 2 complimentary revisions. After the 2nd revision (3rd digital proof), additional revisions are billed separately and balance is due prior to creating the next digital proof. Additional mockups are billed at $200/design revision.
DAY-OF EVENT STATIONERY
We only offer Day-of Stationery items to our current Invitation Suite clients. The production timeline for day-of event items vary from each order. If you are interested in finding out more about what The AYLA View offers for Day-of Stationery, please request a quote and timeline with a list of day-of items on hand at least 6 weeks prior to your wedding date. Some items offered, but not limited to, are ceremony programmes, place cards, escort cards, deconstructed seating charts, table markers/numbers, menu cards, vowbooks, thank you cards, specialty wedding favours, etc.
3 | Style
We encourage the client to spend a satisfactory amount of time reviewing The AYLA View's portfolio prior to booking. The client will then have a reasonable expectation that the Studio will perform the design services in a similar manner and style unless otherwise specified at the beginning of the project. We highly appreciate it if you include images that contain The AYLA View's work as your inspiration. Please note that while you might include inspiration photos containing other designers or artists' creations, we will not copy their design or artwork.
4 | Calligraphy
Due to the handmade nature of Calligraphy, letterforms and other characters may vary from each other and from that of digital and printed matter. Calligraphy is an art and must be appreciated as such. To keep the integrity of our work, we only use our signature calligraphy styles on wedding stationery. We will not copy another calligrapher's style nor use calligraphy fonts even if provided by clients.
5 | The Post & Postage
To expedite the mailing process, all mail will be sorted by a machine. In any case the mail scanner does not pick up the postal code on the envelope or parcel, the mail will then be manually sorted. This will end up taking a bit more time to process. The Studio nor the Artist is not responsible for any delays or returned mail due to incorrect addressing format provided, calligraphy style, custom ink, and/or insufficient postage, and other circumstances that are beyond our control. We are not responsible for replacing envelopes that are lost or damaged by the postal service.
The Client is responsible for purchasing and applying postage on mailed stationery, including but are not limited to: save-the-date suites and invitation suites. The Studio is not responsible for weighing stationery to be mailed and for providing postage pricing estimates.
Due to the high volume of mail and parcels sent out in the months of November and December because of the holiday season, the Studio does not recommend mailing out wedding invitations in these months. The Studio encourages the Client to allot extra time when mailing out invitations, especially if the Client chooses to send them out during the busiest time of the year for mail.
6 | Handmade Paper
Due to the one-of-a-kind nature of chosen handmade paper stock, product characteristics may vary widely upon manufacturer's discretion and are considered to be part of the paper's character. Variations in its deckled edges, size, shape, colour, weight, thickness, and texture are to be expected and what we consider elements that make the paper even more beautiful. As handmade paper is custom ordered, wedding stationery that includes handmade paper generally takes approximately 2-3 weeks longer to produce than those with the Studio's in-house cotton stock.
7 | Pricing, Currency, & Payment
Our online shop currency is set in Canadian Dollars. Payments are collected through our online system connected to Stripe. Canadian clients have the option to pay for some services through electronic transfer of funds. 
By ordering online through our  website, the Client consents and agrees to having payment charged through their credit card on file, which is determined by the credit card that makes the initial payment. If the credit card on file needs to be changed, the Client must inform the Studio at least 72 hours prior the next payment's due date. Delay in payments will result in delay in completion of the project.
8 | Return, Refund, & Exchange Policy
Due to the custom and handmade nature of all of our products and services, we are not able to offer returns, refunds, nor exchanges on them, with the exception of returns due to defective product or wrong item shipped. All samples are considered final.
In the unfortunate event that you are dissatisfied with your order, please email us directly at hello@aylapena.com within 7 days upon receipt of your order including a detailed description of the issue, and we will do our best to make it right.
9 | Cancellation Policy
As life happens, we understand that you may have to cancel your order. Once you've placed your order, we work on it right away. In general, you can cancel your order at anytime, but we are unable to refund the booking deposit once it has been paid. 
Cancellation fees are due based on the amount of work that we have completed and stage the project has entered. The Client will pay 50% of the outstanding balance as a cancellation fee and to cover work already performed, but not yet invoiced, such as, but is not limited to: admin, design, proofing, stocking, production, assembly, etc.
10 | Errors
It is your, the Client's, responsibility to read, review, and proofread all the text/verbiage on all design proofs. The Ayla View will not be responsible for checking spelling/grammar once the design proof has been approved by the Client. If envelope addressing is required, please provide guest address lists with complete information including, but not limited to, unit/apartment numbers (if necessary), postal/zip codes, and countries all at once to avoid any delay and reformatting fees.
Invitation Suites and Day-of Wedding Stationery: In case the error was made by The AYLA View, we will reprint the items at no additional cost. In case the error was on the client's part, the client will be responsible for any extra charges. Reprints and/or rewritten addresses due to clients' error will be placed in our print production queue and will not be prioritized over existing jobs.
Envelope Addressing: In case the error was made by The AYLA­ View, we will rewrite and send (a) corrected envelope(s) at no additional cost. In case the error was found on the submitted final list by the client, we will rewrite and send a corrected envelope at the client's expense.
11 | Colour Disclaimer
We do our very best to show the most accurate representation of invitation suites and other wedding stationery and products. Due to the many variations of monitors, please note colours on digital proofs may slightly differ as computer screens are not calibrated equally. Digital ink, calligraphy ink, letterpress ink, and metallic foil colours may slightly differ to what is seen on-screen.
12 | Shipping, Duties, & Delivery
A flat shipping fee is charged for invitation suite items purchased on our online shop to complete your online order.
We use UPS or FedEx courier services for tracked shipment on wedding stationery orders. Upon scheduling the shipment, you will receive an estimated arrival date for your package. We require a signature for invitation orders, please ensure that you or someone you trust will be able to receive your order. Shipping times may vary, but generally takes 1-3 business days within British Columbia, Canada; 5-10 business days within North America, and 5-15 business days outside North America.
For clients with US and international addresses, the full value of the project will be declared in accordance with the law. All shipping, customs, brokerage, and import tax fees (duties) that may apply upon receipt of order are the responsibility of the Client. By default, shipping insurance is not included in the shipping costs. Should the Client request for a quicker service or to add shipping insurance, the Client must advise the Artist if they would like to do so prior to shipment of the package. Once the project has left the Studio for shipping, the Artist is not liable for any loss, changes in speed of delivery, delay, or damage caused by the courier, severe weather conditions, or any circumstance beyond the Artist and the Studio's control.
13 | Exclusivity
Client understands and agrees that they have hired The AYLA View exclusive of any other calligraphy, lettering, and design service provider. In order to provide a high level of satisfaction and quality of service, no other service providers, other than any assistant or third party that the Studio agrees to complete the services outlined in the agreement prepared prior to the job order, are permitted to provide the same or similar services or products, paid or unpaid, at the locations and dates specified in the agreement.
14 | Privacy Policy
Your privacy is a big deal to us. We respect your privacy and the information collected will only be used for our communication during the design process. We will never share, sell, transfer, nor give your information to any third party, without your consent. We keep your information in our Client Portal up to 1 month after your wedding date has passed and then we archive your design project and information.
15 | Social Media, Website Portfolio, Online Blogs
We take pride in our designs and post on social media from time to time for marketing purposes. We may share behind-the-scenes while working on current projects, but we will never show your event information prior to your event date. We also do not show full and/or real addresses on envelopes. As we know your celebration is an intimate moment, we try our best to be mindful with what part of your wedding paper is visible on our social media and website.
As we respect your privacy, please inform us before the design process if you have any issues or concerns regarding this, upon booking and signing our design contract. We have the right to share artworks and designs created by The Ayla View on social media, website, and online blogs at our sole discretion. Some details are edited to protect your privacy, but the overall look and feel of the stationery design will be present.
16 | Editorial Sessions
We are thrilled that you are interested in collaborating with us! We kindly request access to download photo albums to be granted within 2 months from the photoshoot date. If this is not possible, a follow-up email is highly-encouraged and appreciated. Due to the handmade nature of invitation suites, any and all Editorial Stationery Suites are not available for refunds/exchanges. Editorial Stationery Suites cannot be resold without written permission from The AYLA View.
Please tag and give credit to the Artist and the Studio as follows, wherever credit is due as: "Stationer" / "Stationery" / "Calligrapher" / "Calligraphy" / "Invitation Suite" (whichever may apply best): e.g. Stationery: @aylapena on an Instagram post
Instagram: @aylapena (i.e. on the post/story if our work is visible in the photo; on the caption along with the list of participating vendors)
Website Blog: Ayla Peña or The AYLA View
Facebook: The AYLA View
We are not able to accommodate rush editorial suites (i.e. requested in-hand date is less than 4 weeks). Thank you for understanding.
17 | Ownership of Artwork
The AYLA View and Ayla Peña reserve all the rights to original designs and artworks on this website. You may not reproduce the design, art, and imagery without the written permission of the Owner. Please contact us directly at hello@aylapena.com if you are interested in exclusive rights to the original designs and artworks, so we can discuss the appropriate quote. 
18 | Taxes
The AYLA View operates on the Vancouver Island, British Columbia. Invoices for Canadian clients are subject to the GST (Goods and Services Tax). Clients residing outside Canada are not subject to the GST. (The AYLA View GST#71319 8497 RT0001)
19 | Changes to Terms
We encourage you to read our Terms and Conditions every time you visit our website as we update from time-to-time. We reserve the right to modify our pricing, imagery, services, products, and terms, at any time without prior notice.
If you have further questions, please e-mail us directly at hello@aylapena.com and we'd be happy to assist. Thank you!